BUTCHER OF DREAMS


A Suspense Novel About The Theater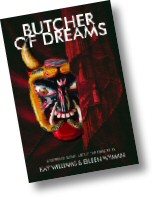 BUTCHER OF DREAMS
A Suspense Novel About The Theater


The 42nd Street Repertory Theater was an abandoned burlesque house where the homeless lived-until Lee and her staff scrub it out. The third floor makes Lee uneasy with its scattering of feathers and bones. Still, having the theater is a dream come true. If her husband hadn't died six month earlier, she'd be on cloud nine.

It doesn't matter, she tells herself, that the theater sits on the seedy fringes of Times Square, that it's under-budgeted and understaffed and that she (as Administrative Director) will play only one role this first season. It's an Equity theater, offering five plays in repertory. Times Square redevelopment makes the property desirable.

With her husband recently dead and her daughter away at college, Lee falls into a passionate affair with a younger man. Bizarre, seemingly unrelated events-beginning with a homeless person found dead on the third floor of the theater-escalate to ritual murder.

Playful improvisation becomes a deadly game. Qualities that make her a good actress-imagination, empathy-pull her through the looking glass into a nightmare world, to the brink of death. Over all hovers a Mexican mask, stolen from the tomb at Monte Alban, its eyes glittering with secrets of the ancient Aztecs and sacrifice.

The characters are based on the authors' extensive experience in theater and film. Alan Dunbar, Lee's Artistic Director, has troubling gaps in his resume; Ernst Kromer, her other director, is rigid and uncooperative. Other major characters are: Michael Day, Lee's sexy and mysterious assistant; wraithlike Fleur Mahoney, whose first role is a dead girl-and she almost is; Barry Blackwell, talented actor, compulsive practical joker; Harry O'Brien, company stage manager, who'd kill for a role. Characters from the "real" world include Alan's lover, Walter Kaplan, eccentric psychiatrist and medical anthropologist; Heather, Lee's 18-year-old daughter, who has a surprising secret life; pock-marked, cynical NYPD Detective Mordecai Green, who moonlights as an actor.